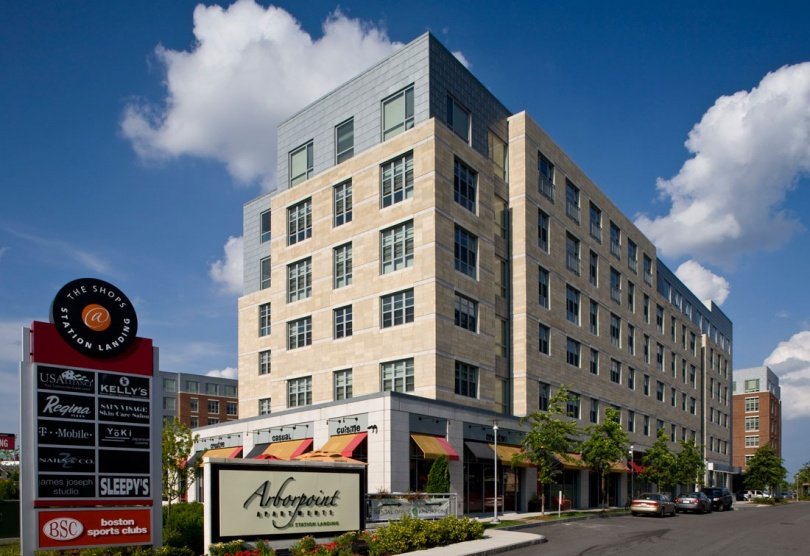 Over the past ten years, demand for housing in the Boston area has skyrocketed. With new renters pouring in and new development popping up, came new luxury apartment buildings. By 2006, the trend reached Medford in the form of Arborpoint at Station Landing. And, why would it not? Medford is a vibrant and dynamic city. Less than six miles out of Boston, it is the perfect place to enjoy the charms of the city but escape some of the intense crowds. Those who want the benefits of living in Medford but also all the amenities a luxury apartment flock to luxury housing in Medford, MA. Arborpoint at Station Landing is an excellent example of this.
Arborpoint at Station Landing is a luxury apartment building at
50 Station Landing
in Medford, MA. It sits perched atop retail spots as convenient as Walgreens and H&R Block and as tempting as Cold Stone Creamery or Yoki Sushi Bar. So, simple options abound for residents who need to run an errand or grab a treat. And, a picturesque skywalk to the closest T stop makes life even easier for residents. As for the building itself, the exterior is modern and sleek, with bright, picturesque lights and red brick accents. As premier luxury housing in Medford, MA, Arborpoint at Station Landing looks the part.
By the numbers
Arborpoint at Station Landing has 292 units, all of which have between 1 and 2 bedrooms. Rent starts at $2,435 for 1-bedrooms and $3,010 for 2-bedrooms. The modern building was completed in 2006.
Every unit at Arborpoint at Station Landing has an open floor plan, washer and dryer, oversized bathrooms and closets, granite countertops, and efficient heating and cooling. Certain apartments also boast Berber style carpeting, stainless steel appliances, Cherrywood cabinets, and other features. All the units are what you should expect from luxury housing in Medford, MA.
What about community amenities?
Arborpoint at Station Landing also offers plenty of building amenities you might hope for from luxury housing in Medford, MA. Residents enjoy features like:
Fine dining and retail in the building
A covered parking garage for your car and storage for your bikes
A gym and yoga studio
Outdoor spaces, including a rooftop garden
Communal lounges for working, relaxing, watching a movie, or having a drink. That means there is a Starbucks machine near work tables, a media area, a bar, and communal kitchen.
On-site management
Controlled access entry and intercoms.
Smokers beware, and animal lovers rejoice – This is a smoke-free, pet-friendly building.
How do I get a unit?
If Arborpoint at Station Landing sounds like the luxury housing in Medford, MA that you want, we at Medford Pads can help. Visit our partner site,
Boston Luxury Apartments
, for all the details about this and every
luxury apartment building
in the Greater Boston Area.
Who says you cannot enjoy all the perks of luxury housing outside of Boston proper? Medford, MA has plenty of apartments as upscale as the finest new building on Beacon Hill. Find your dream apartment now.